With Cannes 2011 finally pulling to an end this past week, the celebs had taken a short journey through to the royal city of Monaco view the competitive Monaco Grand Prix.
Guests to watch the prix included a wide spread from royal family including Charlotte and Andrea Casiraghi, Spice girl Geri Halliwell, the Ecclestone sisters and Grand prix performer Lewis Hamilton's girlfriend Nicole Scherzinger
Not that many watched the race with all the high fashion that floated around during the weekend but defnding champion
Sebastian Vettel recrown king for the Red Bull team. Making his German team mates proud in the process.
Back to the fashion…
Geri Halliwell turned up in one of her own items, following in her fellow band mates footsteps, the former ginger spice wore a striking jumpsuit designed by her brand matched with a pair of bright pink shoes by Next.
Formula one racer Jenson Button with his beautiful lingerie girlfriend Jessica Michibata- she wore an off the shoulder figure hugging dress similar by Sabel Marant.
The Newly engaged Kim Kardashian stepped out for the grand Prix in Monaco in a white flowing gown with her 20 carat ring to match. Looking as glam as ever she took to the red carpet with Kris her husband-to-be.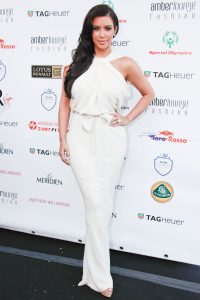 Nicole, one of the known celebrities to have close links with the grand prix, with her toyboy boyfriend Lewis Hamilton performed, she watched eagerly as he took to the track in a loose nude coloured dress with matching shoes.
Looking stunning as usual Nicole….
Princess Beatrice also turned up looking fabulous in a very bright orange dress that looked wonderful on her figure- she at last got it right in this number which showed off her curves in the right way. She proudly cheered on fellow Brit Hamilton with her boyfriend.
It was a great show for the celebs to cheer and support the drivers- lovely summer dresses are out and colour is clearly in..
Monaco 2011.